John Constantine is from the Vertigo series Hellblazer, spoilers within.
Hellblazer Character
John Constantine
Arrival date:
Age:
36
Birthdate:
10 May 1953
Occupation:
Demon Magnet
OOC Information
Portrayed by:
Paul Bettany
Journal:
Rhymes with fine
Tag:
john constantine
Player:
Frost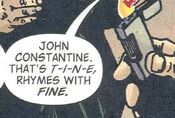 The Basics
Edit
Height: 5'10"
Weight: 147 lbs
Eyes: Blue
Hair: Blond, short and spiky.
Face & Complexion: Pale
Build: Thin, wiry
Defining Marks, scars, etc: Tattoo of a pine tree on his ass (the right butt cheek).
Dress Style: casually professional
Possessions always on this person: cigarettes, his lighter
Manner of Speech: Casual, generally just shy of exceptionally crude. He's British and has an accent straight out of Liverpool. That said, he's also quite the smooth talker. It's not hard for him to make friends with a complete stranger in only a few short minutes.
Manner of Movement: Confident. He walks like he knows what he's doing and like he's not worried about anything in the world.
---
Inventory
Edit
Two and a half packs Silk Cut cigarettes
One plain silver zippo-lighter
One silver flask containing whiskey. Half empty.
One pocket knife; rather worn.
Wallet containing:

20 pounds, 5 quid
20 dollars, American
Driver's License; English
A crumpled paper with a list of contacts' names and numbers
A picture of his sister and niece
One folded mini-flyer for his old band Mucous Membrane

One pair boxers, plain grey
One pair socks, black
One pair dress slacks, black
One undershirt, white
One oxford button up, white
One tie, thin and black
One suit jacket, black
One pair dress shoes, black. Slightly scuffed
One trenchcoat, tan