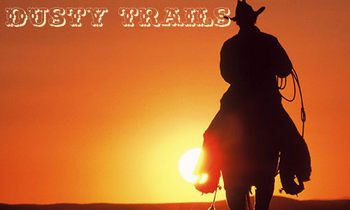 Welcome to Dusty Trails Wiki
The wiki about Dusty Trails that anyone can edit
78 articles since October 2008
Notes from the Wiki Guru
Just a few reminders.
1. Please remember to use redirects on the nicknames that you register to Wikia with.
2. Don't forget to figure out where your pup is living and go ahead and add it to the Private Residences section of the wiki.
3. If anyone needs any help, feel free to ping me
| | |
| --- | --- |
| Good Places to Start | Helpful New Pages |
What's new on Dusty Trails Wiki
22 November 2008/Updates!

Please welcome Frost to the moderator team and stay tuned for new information in the ooc comm in the coming days about the following things...
A herd of horses
Snow!
Christmas presents
A plot to take over the town!
30 October 2008/Important Changes and the package system!

Please note that there has been a change to the map and the Dance Hall is now a Post Office complete with Wanted Posters and the occasional bit of mail for your character. See the OOC community for more details on that particular development.
Helping out
To write a new article, just enter the article title in the box below.
Not sure where to start?
Talk and more...
Check out the community portal to see what the community is working on, to give feedback or just to say hi.
Featured article: FAQ
How do characters arrive in Canyon Ridge? One minute your character is going about their daily lives or wherever you decide to bring them from and the next they're in or around the town of Canyon Ridge. It's simple, really. Deceased characters are not allowed. For example: you could bring Sirius Black from Harry Potter from before he falls through the veil, but not after. Continue Reading
Game Concept
The year is 2008. Your character has just arrived in Canyon Ridge, an abandoned wild west town from the 1800s. There is no cell phone service. There is no internet. There isn't even a canyon. For miles around the town, there is only desert and a lone railroad track that has fallen into disuse. Your character can leave Canyon Ridge and start walking in whatever direction s/he likes, but s/he'll only find tumbleweed, cactus, and desert wildlife with the exception of a small river about a mile west of the town for your character to fish, swim, and wash their clothes in. Your character is effectively stuck. But there are certain amenities. There's a fully stocked saloon, a general store, a pharmacy, a school house, a church, a tailor, a dance hall, a restaurant, and several more buildings where businesses used to be as well as many homes whose occupants appear to have just up and left without their belongings one day.